Four-Legged Lake Flood Damage Reduction (FDR) Project
Project Description:
A region-wide goal has been established to reduce peak flows along the Red River of the North (Red River) by 20 percent during a flooding event similar to the 1997 flood. In order to reach this goal, each tributary of the Red River has been provided with both peak flow and volume reduction goals as set forth in the Red River Basin Commission's (RRBC) Long Term Flood Solutions (LTFS) Basin Wide Flood Flow Reduction Strategy Report.

Several large-scale modeling efforts have been conducted throughout the Red River Basin to assist in determining the amount of effort required to meet the flow and volume reduction goals in each tributary basin of the Red River. HEC-HMS models for the RLWD major subwatersheds have been developed as part of the Red River of the North Basin-Wide Modeling project. These models were also used in 2013 for the RLWD Expanded Distributed Detention Strategy project to determine locations for potential detention sites within the RLWD, in an effort to assess which areas of the watershed have the highest ability to reduce peak flows and volume at Crookston. This project revealed that the Four Legged Lake subwatershed is a strategic area to add detention and reduce peak flows at Crookston. There are also opportunities to modify the Four Legged Lake control structures in a way to reduce flood risk to local landowners, enhance environmental conditions within the subwatershed and add recreational benefits.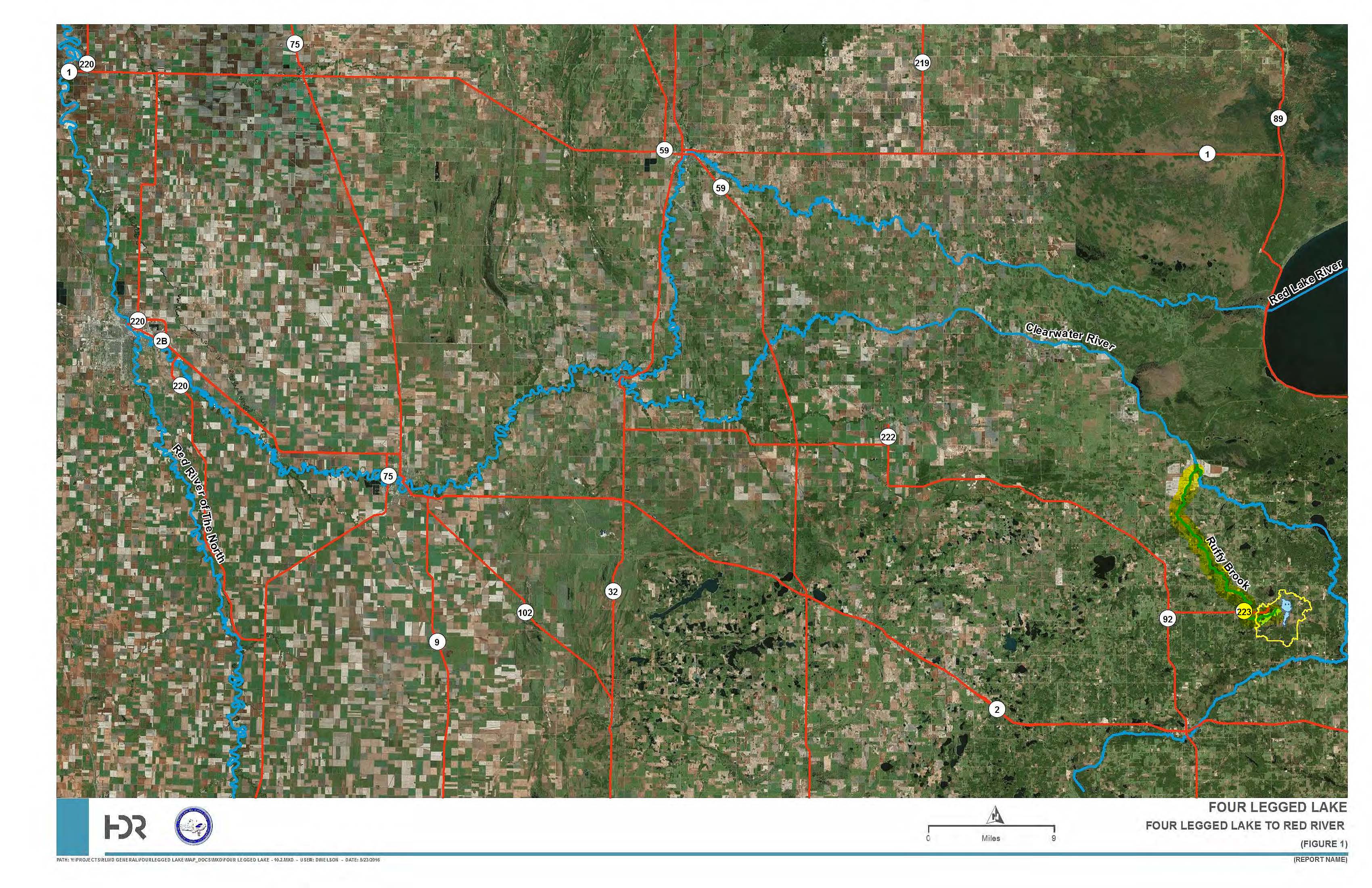 4-Legged Lake Watershed Improvement Project, Click map for larger version.
The current project will be completed for the RLWD in accordance with NRCS procedures. The end result of the project will be documentation of environmental resources within the watershed, evaluation of alternatives, documentation of environmental impacts and design performance of evaluated alternatives, determination of environmental status (Categorical Exclusion, EA, Enviromental Impact Statement ), and selection of a preferred alternative that meets project goals (assuming the project does not warrant further study through completion of an EIS).

The goals of the current effort include:
• Flood Damage Reduction
• Water Quality Enhancement
• Improve Habitat for Fish and Wildlife
Upcoming Events
The next Four-Legged Lake project team meeting will be held on Friday July 21st, 2017 .

Time: 11:00 a.m. – 12:00 a.m.
Location: Red Lake Watershed District
1000 Pennington Ave S.
Thief River Falls, MN 56701
Project Schedule

Click graphic for larger version. All dates are tenative and subject to change.
Stay Involved and Let Us Know What You Think
Check back often to stay informed about the project progress. If you would like to leave a comment for the project team, click the link below and submit your comment electronically. Click here to leave a comment

Please take a moment to print and take this survey.Four Legged Lake Survey. Completed surveys can be mailed to or dropped off at the RLWD office in Thief River Falls.
Four-Legged Lake Minutes
Four-Legged Lake Meeting Presentations & Handouts
Additional Resources