Good Lake Impoundment - Project 67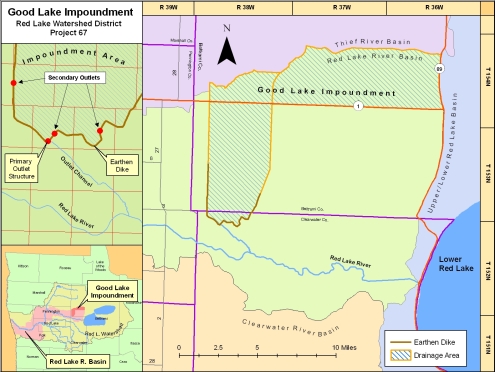 Project Location
The project area lies entirely within the Red Lake Indian Reservation. The site is approximately 30 miles to the east of Thief River Falls, MN, in Beltrami and Clearwater Counties. The drainage area above the dam is 82 square miles.
Design Considerations
The Good Lake Impoundment Project 67 is designed as a multi-purpose project to provide wetland wildlife habitat, flood water retention, and a potential supply of water for irrigation.
Fish and Wildlife:&nbsp Enhanced wetland habitat for waterfow, furbearers, and other wetland species. The reservior can also provide an environment for the seasonal rearing of northern pike.

Flood Control:&nbsp The project will reduce flood peaks on both the Red Lake River and the Red river of the North. The dam will store runoff from the 73 square mile drainage area. Spring storage capacity is 11,300 acre-feet and is equal to 2.6 inches of runoff from the drainage area. The project will also reduce flooding on approximately 4,000 acres of private land immediately west of the project, by intercepting overland flow.

Water Supply:&nbsp The reservoir may be used as a water source for irrigation of wildrice paddies. Paddies have not been built, but there is potential for paddy development in adjacent areas.
Project Components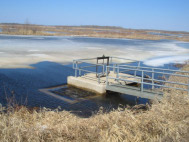 Gated Outlet Structure
Project 67 consists of 9 miles of earthen embankment, 7.5 miles of inlet channels, a reinforced concrete outlet structure, and 2 miles of outlet channel.The project was completed and in use in 1996. At the total cost at that time was approximately $2,129,000, with funding and in-kind contributions provided by:
Red Lake Band of Chippewa Indians
Red Lake Watershed District
Red River Watershed Management Board
State of Minnesota
Functional Design Data
| Feature | Measurement | Storage |
| --- | --- | --- |
| Top of Dam | 1178.5 (ft. msl) | 27,500 (acre-ft.) |
| Flood Pool (Emer. Spillway) | 1176.1 (ft. msl) | 13,100 (acre-ft.) |
| Normal Summer Pool | 1173.0 (ft. msl) | 3,250 (acre-ft.) |
| Normal Winter Pool | 1172.0 (ft. msl) | 1,800 (acre-ft.) |
| Drainage Area | 73 Sq. Mi. | -- |
2007 Project Activity
Other than normal operations, aerial spraying for brush control, mechanical brush control, and gate repair at the principle outlet structure were the main work items for 2007. Aerial spraying was done along the dike alignment and the inlet channel, mechanical brushing was done on the 2.3 mile reach of the outlet channel between the outlet structure and the 'river road.'
In late July, the operable screw gate on the outlet structure malfunctioned and came off the guide mechanism. About one month later, the pool was drained enough to do the repair work required. New angle iron guides and bracing were installed, and the screw gate was again closed. Independent Locomotive Services of Thief River Falls was hired to make the repairs. Staff from the Watershed District also assisted.