BSWR Project C11-129, 37
Grand Marais Creek Cut Channel Stabilization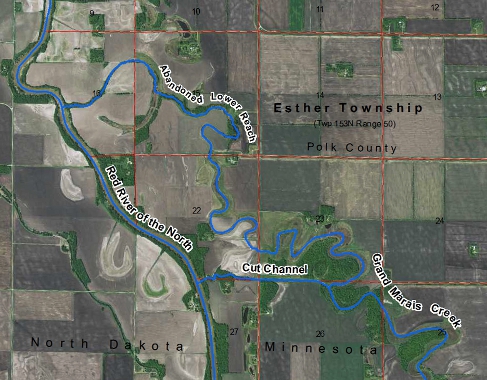 In the early 1900's, State and County government constructed 1.25 mile drainage ditch between the Grand Marais Creek and the Red River of the North to provide a shorter outlet and effectively abandoning the lower 6 miles of natural channel. In recent times, the ditch has progressively eroded, causing steep gradients and unstable banks. This deterioration has resulted in nearly continuous head cutting and bank sloughing, causing in an average of 700 tons of sediment to be deposited into the Red River every year.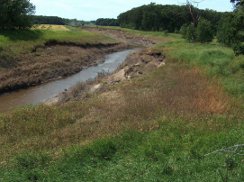 Pre-project erosion upstream of CR64
With a grant from the Clean Water fund, the Red Lake Watershed District proposes to construct a project to stabilize the outlet channel. Drop structures and spillways will reduce channel flow to non-erosive velocities thereby eliminating the head cutting, bank sloughing and sediment transport. The cross section of the channel will be re-established and critical areas will be armored to prevent bank cutting. These repairs should reduce the turbidity in the Red River.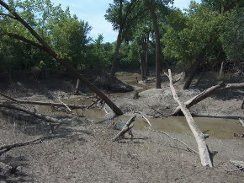 Pre-project erosion near the Red River
This project is a component for a larger plan for the Grand Marais watershed that also includes a restoration of the original Grand Marais Channel. This larger plan would divert flows from the outlet channel, further reducing the potential for erosion. Re-establishing flows to the original Grand Marias channel will enhance wildlife and aquatic habitats for an approximate 6 mile stretch of natural channel.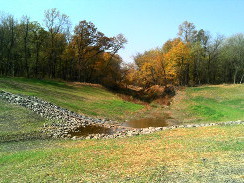 Grade stabilization structure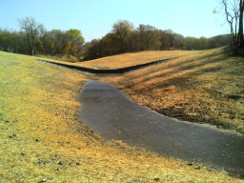 Grade stabilization structure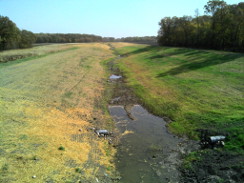 Post-project view upstream of CR64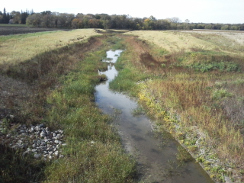 Post-project view downstream of CR64