Euclid East - Project 60C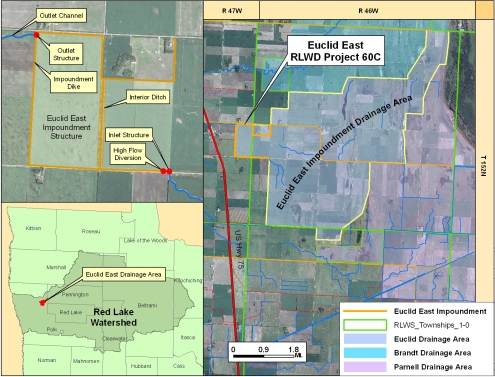 View interactive ArcGIS story map about Euclid East Impoundment
Project Location
The Euclid East impoundment project (RLWD Project 60C) is located in Section 24 of Euclid Township and Section 19 of Belgium Township, in Polk County, about 12 miles north of Crookston. Construction began in June of 2006, and was functional for operation by the summer of 2007.
Design Considerations
The Euclid East project is designed to store up to 2,443 acre-feet of water from a 17.1 square mile drainage area and reduce downstream flooding by allowing the release of the water at a managed rate. The reservoir has reduced peak discharges on Branch C of Polk County Ditch #66, Polk County Ditch #66 Main, and Polk County Ditch #2.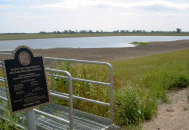 The project was designed to provide protection for a 10-year 24-hour rainfall event, and to fully contain a 100-year 10-day rainfall event without overtopping the emergency spillway. By retaining more water in the upland reaches, the project enhances aquatic resources and reduces downstream erosion.
This project was jointly funded by the State of Minnesota, the Red River Watershed Management Board, and the Red Lake Watershed District.
Project Components
The design consists of approximately 3.6 miles of earthen embankment (332,681 cubic yards), a grass lined emergency spillway, 2.4 miles of inlet channels and culvert works, 0.8 mile of outlet channel and a gated concrete outlet structure. The operable components are built within the gated outlet structure, and are used to control the release of water from the impoundment.
Functional Design Data
| Feature | Measurement | Storage (acre-ft.) |
| --- | --- | --- |
| Top of Dam (Total Storage) | 908.0 Ft. msl | 2,443 (2.68 in. runoff) |
| Secondary Spillway | 905.0 Ft. msl | -- |
| Ungated Storage to Emergency Spillway | 906.0 Ft. msl | 565 (0.62 in. runoff) |
| Gated Storage | -- | 1,878 (2.06 in. runoff) |
| Drainage Area | 17.1 Sq. Mile | -- |